Back to all posts
Posted on
Classes Cancelled for All Students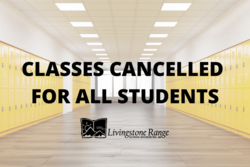 March 15, 2020
Effective immediately, all classes are cancelled for all students across Alberta, including Livingstone Range School Division.
At a press conference from Edmonton on Sunday, March 15, Minister of Education Adriana LaGrange made the announcement and shared the following with school jurisdictions:
"The safety of our students, teachers and staff is the number one priority for all of us – for me and my Cabinet colleagues, for Dr. Hinshaw and for school staff.
"With that in mind, we will be indefinitely cancelling classes across the province. Students are expected to stay home.
"We are all in this together. And I hope you all agree this is the right decision."
Livingstone Range School Division teachers and staff will still be expected to work, and student progression will be a top priority for all. In coming days, we will work on the details of what learning looks like for our students. We will communicate this plan to parents as details become more clear.
We understand that this will have a profound impact on families. Thank you for your patience and understanding as we all contribute to flattening the curve of outbreak and keeping Albertans as safe as possible. As Minister LaGrange said, we indeed are all in this together. 
We will continue to communicate with staff and parents via our usual channels. Please check www.lrsd.ca and https://www.lrsd.ca/our-division/covid-19 for regular updates.